All Methods Evolve...At Least They Should!

Crete Busters would like to introduce you to a piece of equipment that will save you time and money, at the same time making you more productive:
THE Crete Busters' Tracked Hauler.
Welcome to the 21st century. There is nothing else on the market like them. They are the perfect compliment to a mini excavator, Brokk robot, limited access projects or any application that would have required the use of wheelbarrows. They haul over 1,000 lbs, will dump over the side of a 20 yard dumpster and fit through a standard doorway.
This revolutionary piece of equipment is offered for rental or purchase. Call us for more information.
Crete Busters experiences the indispensable value of the Tracked Haulers on our own projects. It is not just a power buggy or motorized wheelbarrow.
Seeing is believing:
check out the photo and video gallery links below.
Contact us to find out how you will benefit from Crete Busters' Tracked Hauler. If you need a distinct advantage in today's competitive business climate, look no further! If you just need help finishing that outdoor project without excessive strain on your back, look no further. Just ask yourself, "Can my wheelbarrow, power buggy, georgia buggy, concrete buggy or motorized wheelbarrow do all of this?

* High and Low Dumping Action
* Kubota Diesel Engiine
* 28" Wide
* 480 3 Phase Electric Conversion Available
Specifications Features & Benefits

View Crete Busters' Tracked Hauler Video Gallery
View Crete Busters' Tracked Hauler Photo Gallery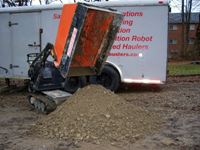 Can your buggy do this?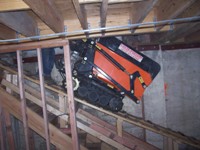 Great for: Gravel, Dirt, Shingles, Concrete, Demolition Debris, Mulch, Stone and much more!